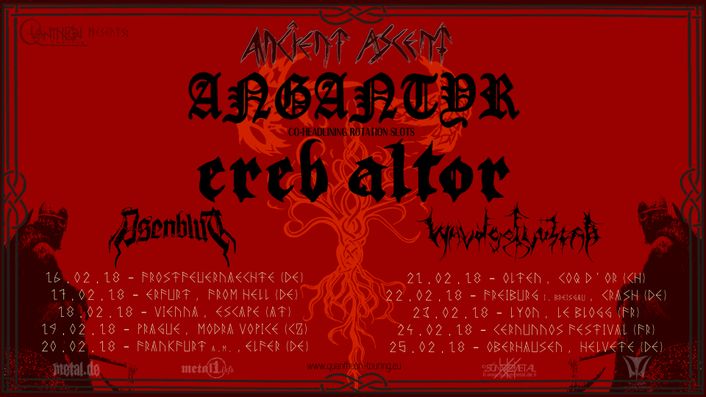 All tour dates finalized and we are proud to announce some more great artists exhibiting their work along the tour:
Nordic Pyrography will not only exhibit at one of our upcoming tour dates but will adorn the entire tour with his art! The name already reveals what Eric's craft centers around. Nordic mythology and history is being revived through the burning fire, banned on wooden materials such as plates, jewelry boxes, and much more.
17.2.18 - ERFURT, FROM HELL
MINA WALLACE PHOTOGRAPHY who is capturing valuable moments for eternity since 2012 and has already worked together with bands like KAMPFAR official, Nargaroth, Thrudvangar, Demoria, Blackest Dawn and many more will exhibit exclusively in Erfurt!
For the 'Ancient Ascent' tour she will stray from what we usually know from her work as event photographer and will show a unique selection of pictures where the visual can only speak for itself.
With her exhibition 'Silent Tunes' she will present moments so dense in atmosphere they will transcend beyond the mere visual capture. Magical and mystical places long forgotten but still with an aura so powerful they demand silence yet make your soul sing the song of that moment. Nothing words are made for but you have to see and feel for yourself.
21.2.18 - OLTEN, COQ D'OR
C.S.R from the SAROS Collective (you might know as the main force behind Schammasch) will show his incredible work in Olten with the exclusive exhibition 'Spirits of Old'!
C.S.R : "Skull trophies adorned with powerful ancient symbols, honouring the beauty, strength & spirit of the north. These trophies seek to remind of glory passed, to inspire who we are now, to make us rediscover the natural strength that we all bear within."
25.2.18 - OBERHAUSEN, HELVETE
We told you already but we love to tell you again! In Oberhausen WÆIK will present a selection of her work under the banner 'MYSTERION'. With different painting techniques she will show her fascination for the dark, transiency, transformation and nature. The well received artist worked together already not only with bands like Soulburn, Wound, Nekrovault, Resonare, Downfall of Gaia, SEID ᛋᛖIᛞ, F41.0, Mournful Winter and many more but also with the Aderlass Kunstverlag, Urtod Void, SAROS Collective and the Chaos Descends Festival.