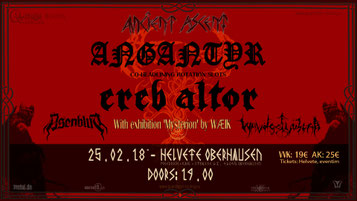 QUANTHEON Touring stands for concept touring meaning tour packages where everything fits together and the experience stretches way beyond the musical realm. That said we are very proud to announce that we could win WÆIK for an exclusive exhibition during one of our upcoming tour dates with ANGANTYR, Ereb Altor, Waldgeflüster and Asenblut!
On 25th of February at Helvete Pub - Club - Live Stage fitting to the concept of the ANCIENT ASCENT tour Rebecca Wæik will present a selection of her work under the banner 'MYSTERION'. With different painting techniques she will show her fascination for the dark, transiency, transformation and nature.
The well received artist worked together already not only with bands like Soulburn, Wound, Nekrovault, Resonare, Downfall of Gaia, SEID ᛋᛖIᛞ, F41.0, Mournful Winter and many more but also with the Aderlass Kunstverlag, Urtod Void, SAROS Collective and the Chaos Descends Festival.
Don't miss this opportunity and be there!